---

My name is Judith Gallant ...
Judy to my friends ...
I hope we will become friends, too, you & I,
while you take the time to browse through these pages.
We already have something in common, you know ...
a deep mutual affection for the teddy bear ...
so we're off to a very good start !

This is me & a couple of the guys ...
what hams !
I just hate having my photograph taken but they insisted...
& you know, just as well as I do,
how persuasive teddy bears can be when they make thier minds up about something ...!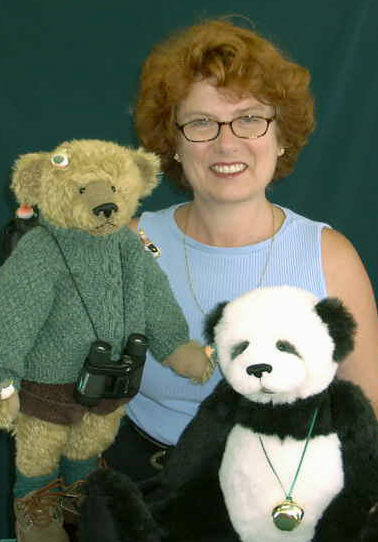 ... anyway, as I was saying ....
I made my first teddy bear only a few years ago in 1996.
I have made literally hundreds of bears since then.
They now live all the way from Tokyo to Toronto ... & back again!
In that time
I have grown to respect & admire
the tremendous power of the teddy bear .
I've seen them incite laughter
& instill a sense of the silly
in an otherwise far too serious world.
I've seen friendships inspired between what has seemed like the most unlikely people ...
all because of a teddy bear.

& teddy bear people, too ... of course !!!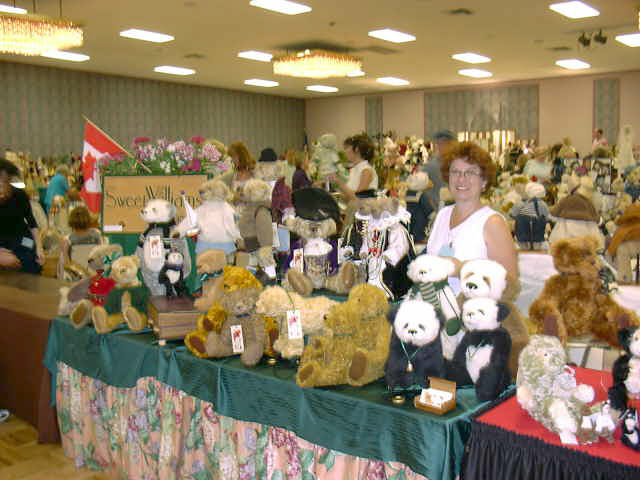 Here's me again with a batch of bruins
at the Linda Mullin's Show in SanDiego, August 2000 !!
Now there was a great bunch of bear folk ........ !!!!
---
Home
Gallery of Bears
Adoptees
Available
Company Name
Mum the "Knitter"
William
Ordering Information
Guarantee