William's
web-page is simply getting too BIG ..!
so we decided to add a second page ...
which seems only fitting since this is his Second Year with us..!

It's January now & Will still loves the SNOW...
good thing, too ...
'cause we sure are getting LOTS of the darn stuff this WINTER ... !!!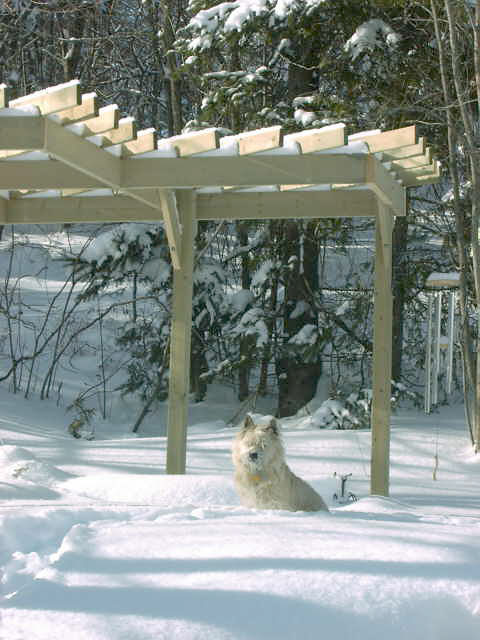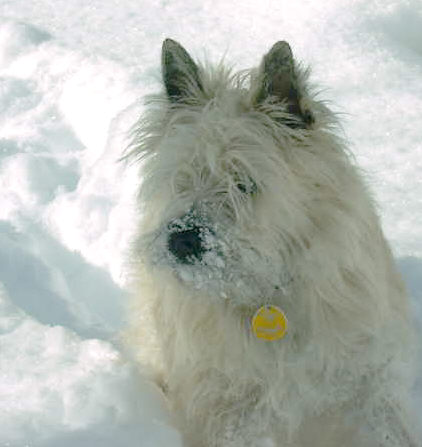 If we could only teach Will how to help with some of the shoveling ... sigh ..!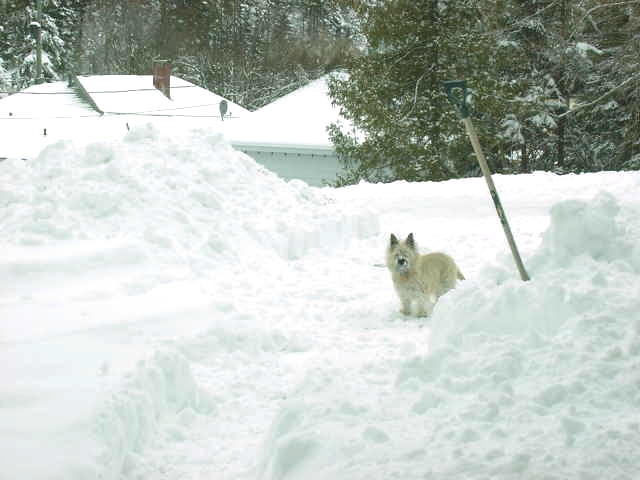 February & even MORE SNOW .....!!!!!!!!!!!!!!!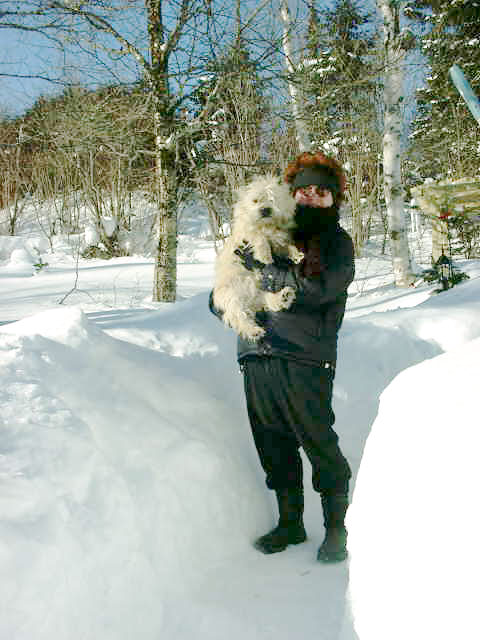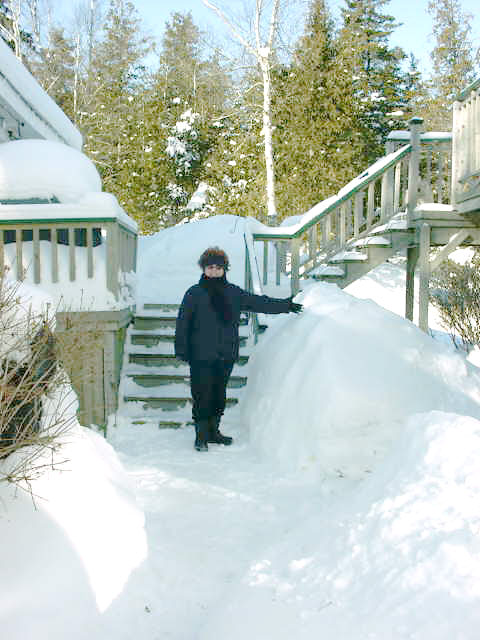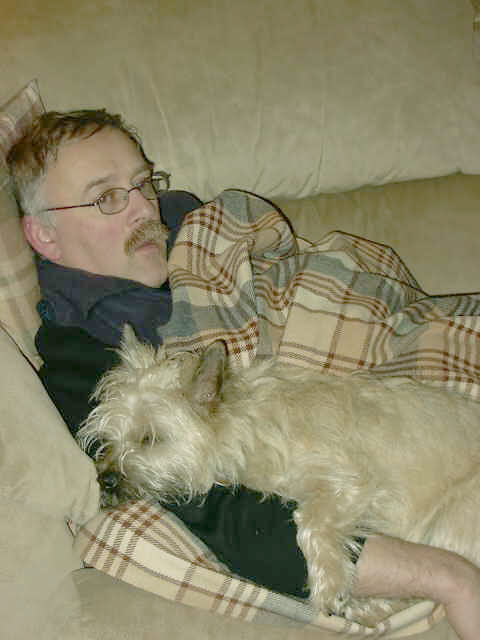 Will might not help much with the shovelling
but he gets pooped just like Dad ...!!!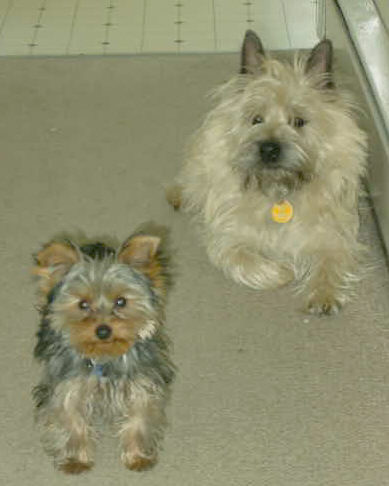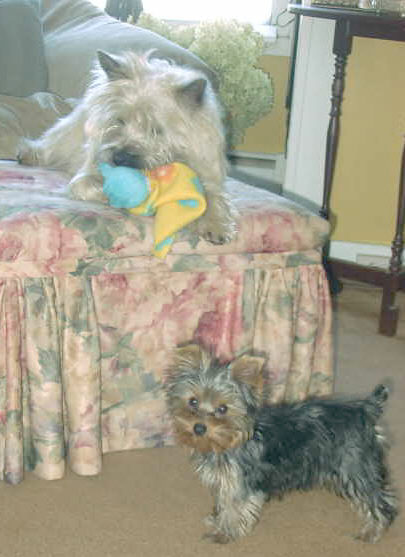 Will just loves it when his good friend, Max,
the Yorkshire Terrier, comes over to play.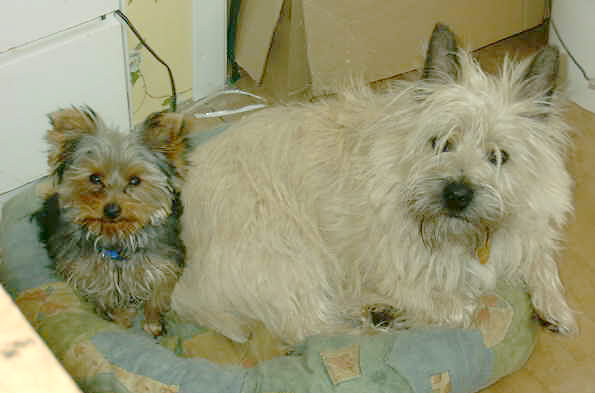 Max may be little but he's a mighty GOOD friend ..!!!
---
" OH NO..... !!!!!!!!!!! "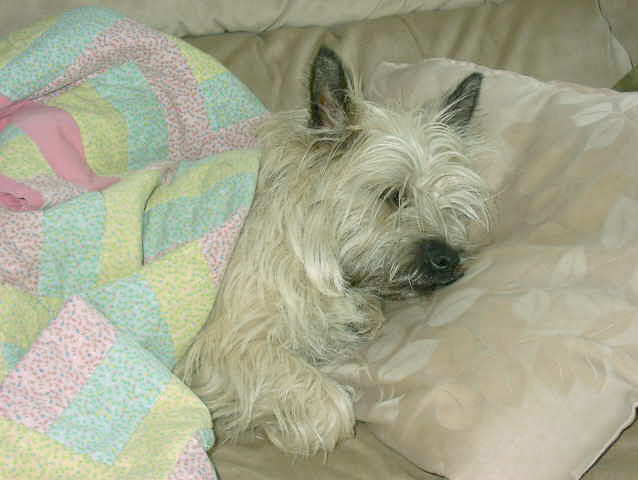 William is very SICK...!!!
" Poor Little Sausage ..! "
We've had to take him to the Veterinary Teaching Hospital at the
University of Prince Edward Island
where they finally diagnosed him with the rare but treatable condition
" Shaker Dog Syndrome".......... !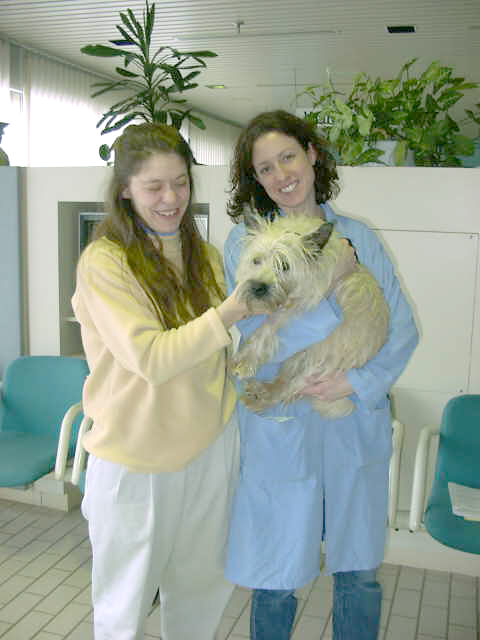 Here's William at the hospital just before I brought him home.
... March 29th, 2003 ...
He's being lovingly held by 4th year student Mary Ellen Carlisle
& tickled by the fabulous & clever
Dr Elizabeth Snead
I can't say enough about the care & attention these women gave poor wee Willie ...
" You were simply TERRIFIC ... !!!! "
Thank you .....!
Will is still pretty wobbly but getting better every day ...!!!
He still sleeps much of the time ...
But that's OK ...
it gives his body time to mend & me much-needed time to sew ..!!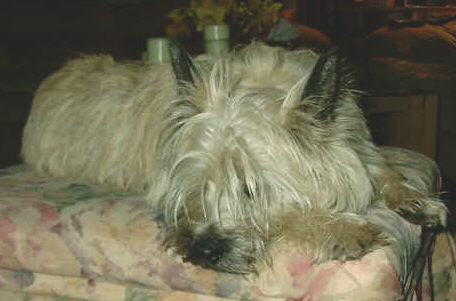 shhhhhhhhhh .....!!!!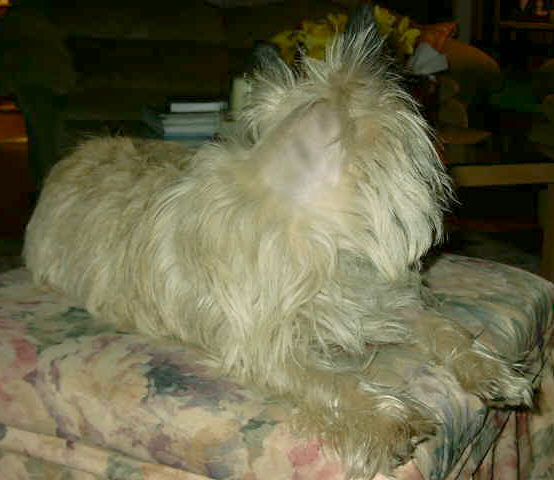 ... just to add insult to injury ...
they had to shave the back of Will's head
to take some fluid from his brain for testing.
As "Aunty Helen" says ...
William now has a VERY expensive BAD hair-cut ..!!!
It'll grow ........... sigh .....!!!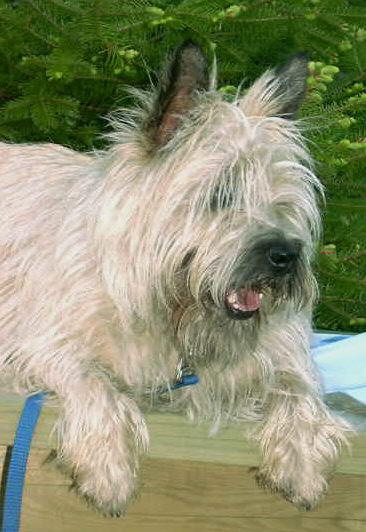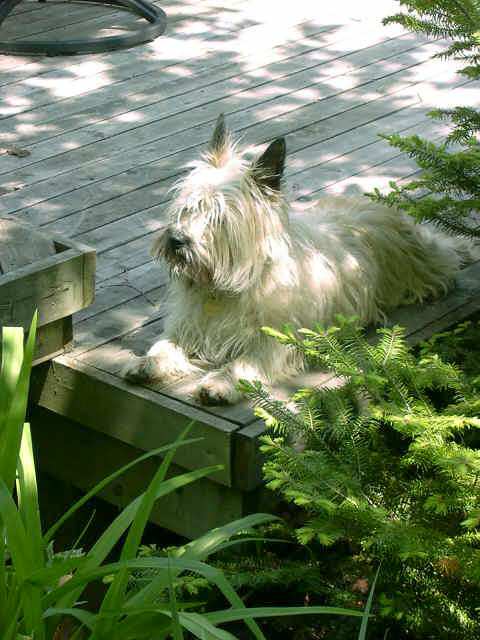 It's nowJUNE & not only has the weather FINALLY improved
but so has William .... !!!!
He's off his meds & seems to be back to his old silly-self again..!!
HOOOAY .......!!!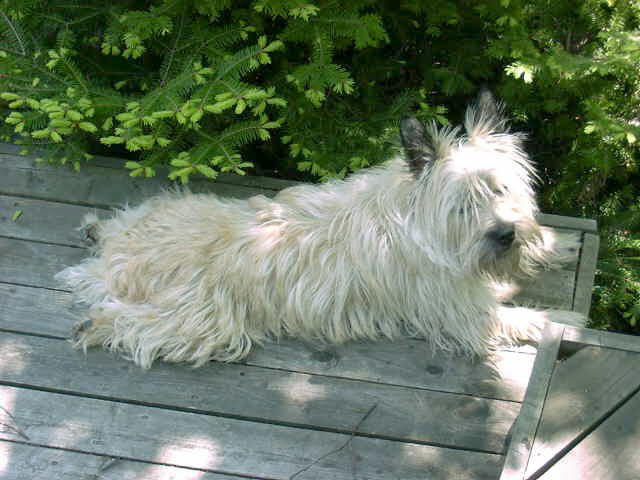 Here he is relaxing on the front deck
... " flat-out " in typical Cairn style ....
after a fun day in the sun.
Here he is on the back deck
... the one going up to my studio ....
waiting patiently for me to finish sewing for the day.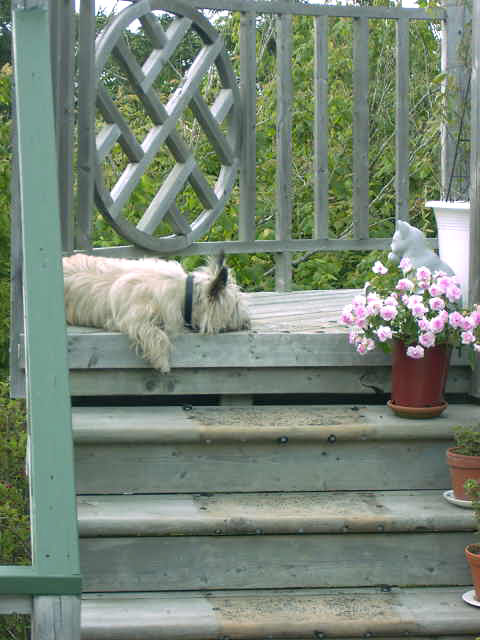 A guy can only stay awake so long ... zzzzzzzzzzzzzz ...!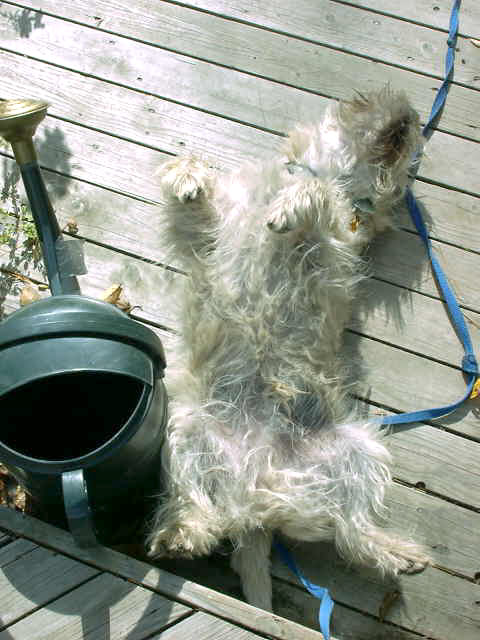 .... MERRY CHRISTMAS ....
Ho Ho Ho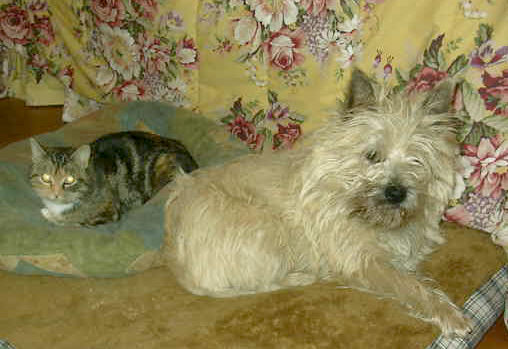 Look who Santa brought for William this year ...
"Merry" the Cat
Merry is Will's brand new very best friend
& bed mate, too, by the looks of things ...!!!
Isn't she a sweetie pie ...?
William sure thinks so ... !!!
Welcome Merry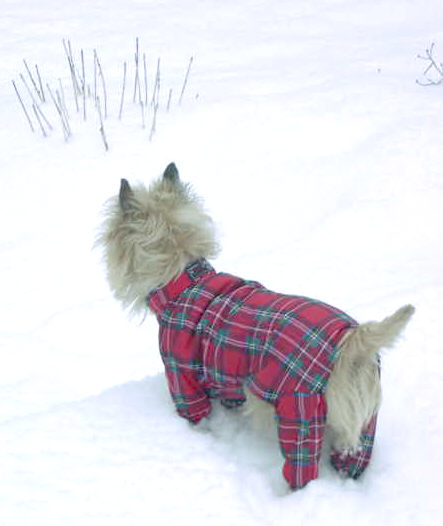 Santa also brought William a lovely new snow suit for Christmas this year ...
& funnily enough he quite likes it ..!?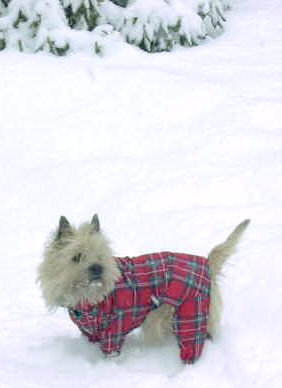 Pretty snappy, huh ..???
"It's not to keep me warm, though",
he explains to all the other dogs in the neighbourhood
who, quite rightly, sniggered at first ....
"It's to help keep those pesky "bobblies"
forming so I can walk in the park without having to stop
every few minutes to remove of the darn things ".
Those darn Bobblies ....!!!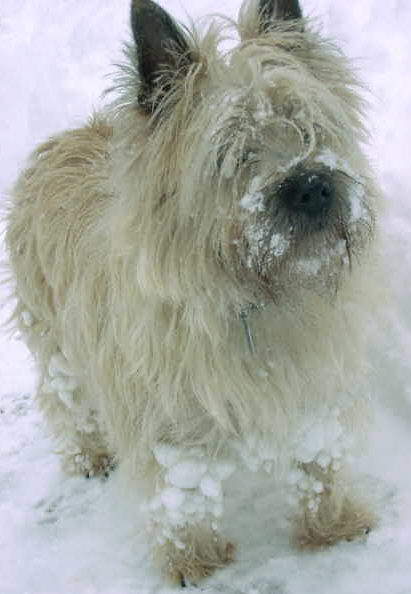 ---
William's Wonerful Day
William
Home
Available
Guest Book
Order

---

updated January 19th, 2004